By Alexa Rivetti.
What do you do when the printer is down, and you need a document for the meeting in ten minutes?
Try these simple troubleshooting steps before escalating the problem.
Look at the printer and read any flashing messages.

The problem may be as simple as a paper jam or toner/ink outage. If it is a paper jam, gently open the printer and take it out. Make sure to know where your ink/toner is stocked, and order it in advance.

Cancel your print requests, and try rebooting the printer.

It depends on office policy, but your next best bet might be to unplug and re-plug in your printer. Wait a minute, and try reprinting again.

Check and see if your co-workers can successfully print to that printer.

If they can, then something is wrong with your desktop/connection to the printer, but not the printer itself.

If it is a network or wireless printer, check your network connection.

Perhaps the printer is working fine, but you need to check if it is actually connected to the network.
Below is a screenshot of what this looks like in Windows 10. Go to your control panel on your desktop. Look up "devices and printers," and click once on the printer you want to use. At the bottom of the panel, you should see the "state" of the printer and whether or not it is connected.
If it is connected: right-click on the selected printer, you can go to printer properties and print a test page.
If it is not connected: check to see if the network cable is properly plugged into the printer. If all cables are properly plugged, follow the next step.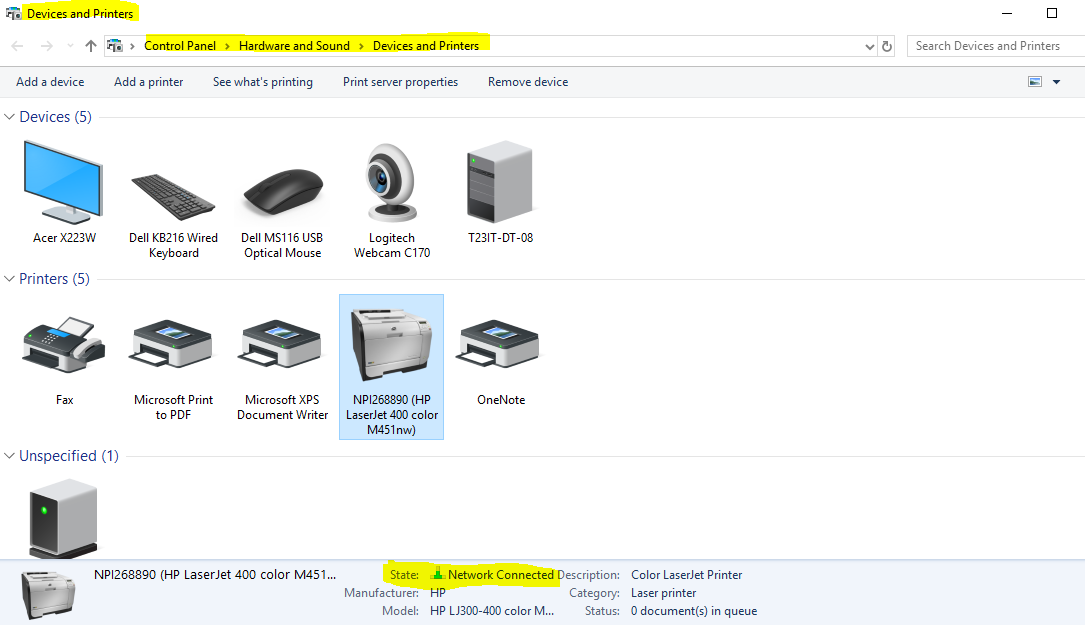 Email or call Tower 23 IT!

Many of our clients have dedicated printer service contracts, but such contracts don't provide the necessary IT support to diagnose common problems. Tower 23 IT is always available to talk you through printer mayhem.